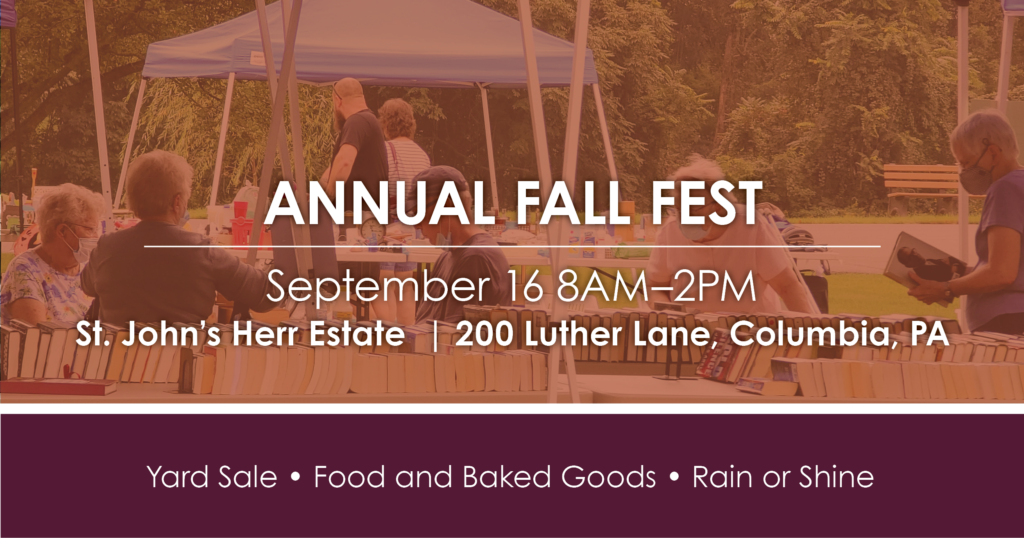 Autumn is just around the corner, and St. John's Herr Estate will host its Annual Fall Fest on Saturday, September 16.  The event, which features a huge indoor yard sale and bake sale, will run from 8:00 a.m. to 2:00 p.m. at St. John's Herr Estate, the Luthercare senior living community at 200 Luther Lane, Columbia.   
The event features a wide variety of items – such as gently-used books, puzzles, household items, jewelry, and more – for a reasonable price. A variety of baked goods made by residents will be for sale, along with chicken corn soup, hot dogs, barbecue, and beverages. The soup is prepared by the chef at St. John's Herr Estate and is available to purchase by the bowl or quart, for eat-in or take-out. There is plenty of free parking. 
Fall Fest is sponsored by St. John's Herr Estate's Residents' Council. Proceeds from the Council's fundraisers are donated to local not-for-profit organizations. For more information, call 717.684.0678. 
About Luthercare: 
Luthercare is a not-for-profit, faith-based, and mission-driven organization with a long history of providing excellent care and services in southcentral Pennsylvania. Founded in 1949 and affiliated with the Evangelical Lutheran Church in America, Luthercare today operates three communities – Luther Acres, St. John's Herr Estate, and Spang Crest in Lancaster and Lebanon Counties – and offers a network of care and services for older adults, including long-term care, short-term rehabilitation, memory support, personal care, and independent living. Additionally, Luthercare operates three PA Keystone Stars-accredited childcare and early learning centers in Annville, Marietta and Reamstown. Luthercare, a pioneer in childcare programs, also offers a mentoring program, which aids home-based childcare providers in Lancaster County. The organization is guided by its mission to reflect Christ's love through service to others.