COVID-19 Pandemic Video –
The Effect of the Pandemic on Luther Acres Campus, Residents & Staff
As we moved forward in our journey through the pandemic, we felt it was important to share what we faced during the outbreak at Luther Acres Healthcare Center, the impact it has had, and where we go from here.
This is video dedicated to our Luthercare residents who went above and beyond in supporting our team members during the pandemic, and to the residents who have passed during this time. And, to our frontline team, our healthcare heroes who have selflessly served our residents during the coronavirus pandemic.
Watch now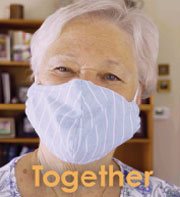 News
Team Member Spotlight: Maria Ketner
Maria Ketner, a housekeeper at Luther Acres, enjoys ensuring the community is clean and beautiful while providing the residents she serves with a more carefree lifestyle. In her role, Maria provides housekeeping services to independent living residents who live in campus cottages and apartments. Her works enables them to spend their retirement years doing the... Click to read the full story
Team Member Spotlight: Lindsay Brubaker
Lindsay Brubaker, an Assistant Teacher at Luthercare for Kids – Marietta, deeply believes that the children she serves are like family.  So when she learned one of the families from the child care center was going through an extremely difficult time due to a health crisis, Lindsay stepped up in a big way to coordinate... Click to read the full story
Luther Acres Cook Celebrates 30-Year Milestone
Linda Sickmeier spent many years working her way up at a local restaurant, from bus-person to waitress to cook, when she realized she was looking for something more. She found it at Luther Acres, a Luthercare community in Lititz, where she recently celebrated 30 years of service as a cook, helping to provide tasty, satisfying... Click to read the full story
Team Member Spotlight: Rhonda Moyer
Rhonda Moyer has been a devoted healthcare worker for more than 15 years, starting as a Certified Nursing Assistant and working now as a Licensed Practical Nurse! She started with Luthercare eight-and-a-half years ago and currently works in the Luther Acres Healthcare Center where she administers medication and treatments, assesses overall health, and oversees Certified... Click to read the full story
---
Service of Remembrance Video
2021 Service of Remembrance video created by our Pastoral Care team.
---
Several times a year, Luthercare circulates its corporate newsletter, Experiences, which provides readers with a glimpse of the most important happenings at Luthercare, our senior living campuses and our child care centers.
In addition, Experiences also features any important upcoming events or news at Luthercare. Click below to read or download some of our most recent newsletters!
Philanthropy Newsletters & Updates