COVID-19 Pandemic Video –
The Effect of the Pandemic on Luther Acres Campus, Residents & Staff
As we moved forward in our journey through the pandemic, we felt it was important to share what we faced during the outbreak at Luther Acres Healthcare Center, the impact it has had, and where we go from here.
This is video dedicated to our Luthercare residents who went above and beyond in supporting our team members during the pandemic, and to the residents who have passed during this time. And, to our frontline team, our healthcare heroes who have selflessly served our residents during the coronavirus pandemic.
Watch now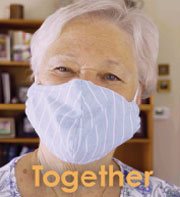 News
Team Member Spotlight: Driver Steve
Driver Steve has been with us at St. John's Herr Estate since September of 2018. As a transportation aide, Steve's responsibilities include getting residents to and from their destinations, whether on- or off-campus. This gives added independence to residents who lack transportation of their own or need a little assistance getting around. Trips can include... Click to read the full story
Team Member Spolight: Zoraima Ruth
Zoraima Ruth started at Spang Crest as a Resident Care Aide in 2012 before leaving, pursuing more education, and rejoining our team in 2017 as a Certified Nursing Assistant (CNA) where she remains. In her current role, Zoraima takes care of residents' day-to-day needs, such as bathing and grooming, and monitoring their health and well-being.... Click to read the full story
Team Member Spolight: Jen Balsbaugh
Jen Balsbaugh's work with Luthercare started in 1996, where she started as a preschool teacher at the Luthercare for Kids – Annville Childcare Center. Jen stayed at Annville for three years before leaving and then rejoining the team in 2018, this time as the Assistant Center Director. In her current position, Jen fills a variety... Click to read the full story
Luthercare Issues COVID-19 Update: 6/25/2021
With today's update, Luthercare is pleased to announce it will end its regular weekly updates that began at the start of the pandemic. We have continued to see success from vaccinations in our communities and have no cases of COVID-19 among residents or team members. Moving forward, we will release additional COVID-19 information only when... Click to read the full story
---
Service of Remembrance Video
Our Service of Remembrance video created by our Pastoral Care team.
---
Several times a year, Luthercare circulates its corporate newsletter, Experiences, which provides readers with a glimpse of the most important happenings at Luthercare, our senior living campuses and our child care centers.
In addition, Experiences also features any important upcoming events or news at Luthercare. Click below to read or download some of our most recent newsletters!
Philanthropy Newsletters & Updates