COVID-19 Pandemic Video –
The Effect of the Pandemic on Luther Acres Campus, Residents & Staff
As we moved forward in our journey through the pandemic, we felt it was important to share what we faced during the outbreak at Luther Acres Healthcare Center, the impact it has had, and where we go from here.
This is video dedicated to our Luthercare residents who went above and beyond in supporting our team members during the pandemic, and to the residents who have passed during this time. And, to our frontline team, our healthcare heroes who have selflessly served our residents during the coronavirus pandemic.
Watch now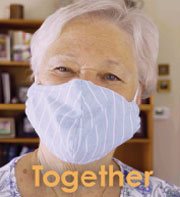 News
Team Member Spotlight: Vivian Galebach
Since 2015, Vivian Galebach has been at Luthercare for Kids — Reamstown as a Pre-K Counts Teacher. In her role, Vivian is responsible for developing and implementing lesson plans, games, and activities for children ages 3-5 with the goal of preparing them for kindergarten and success in school. Parents can rest assured knowing the utmost... Click to read the full story
Team Member Spotlight: Vanessa Clayton
Vanessa Clayton was looking for a position where she could work directly helping people while being able to maintain a good work-life balance. She found those qualities in her position as the Community Life Manager at Luther Acres, our Lititz community. Since 2018, Vanessa has helped residents and their families with a variety of tasks,... Click to read the full story
Team Member Spotlight: Amy Witter
Like the relatives of more than 55 million people worldwide, Amy Witter had a family member with dementia. This led her to volunteer at a local retirement community at age sixteen. Years passed and in 2016 Amy came to work at Spang Crest, our Lebanon community, as an Activities Assistant. Later, she would be promoted... Click to read the full story
---
Service of Remembrance Video
Our Service of Remembrance video created by our Pastoral Care team.
---
Several times a year, Luthercare circulates its corporate newsletter, Experiences, which provides readers with a glimpse of the most important happenings at Luthercare, our senior living campuses and our child care centers.
In addition, Experiences also features any important upcoming events or news at Luthercare. Click below to read or download some of our most recent newsletters!
Philanthropy Newsletters & Updates