COVID-19 Pandemic Video –
The Effect of the Pandemic on Luther Acres Campus, Residents & Staff
As we moved forward in our journey through the pandemic, we felt it was important to share what we faced during the outbreak at Luther Acres Healthcare Center, the impact it has had, and where we go from here.
This is video dedicated to our Luthercare residents who went above and beyond in supporting our team members during the pandemic, and to the residents who have passed during this time. And, to our frontline team, our healthcare heroes who have selflessly served our residents during the coronavirus pandemic.
Watch now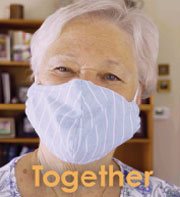 News
Luther Acres Welcomes Celebrity Chef & Food Network Star Aarti Sequeira
Luther Acres senior living community welcomed celebrity chef Aarti Sequeira on Wednesday, June 15, for an interactive, on-site cooking demonstration. Aarti – a cooking show host, cookbook author, journalist, television producer and food personality – visited the campus, at 600 E. Main St., Lititz, to conduct a "Teaching Kitchen" hands-on experience. Alongside several residents,... Click to read the full story
Luthercare Bestows $36,000 in Scholarships to High School Seniors
Luthercare is delighted to announce it has awarded $36,000 to graduating high school seniors who are pursuing careers in the nursing industry. This year, 36 deserving students from schools across Lancaster and Lebanon Counties were selected to receive a $1,000 Luthercare Nursing Scholarship. Recipients were awarded their scholarships during a drive-through reception on Monday, May... Click to read the full story
Annual Strawberry Festival Returns to Luther Acres
Luther Acres residents are "berry excited" to announce that the Annual Strawberry Festival is returning on Saturday, June 4, from 11 a.m. – 1 p.m. at Luther Acres, the Luthercare community at 600 East Main Street, Lititz. Strawberries, shortcake, ice cream, and whipped cream will be $6.00 each, and a hot dog, chips, and drink... Click to read the full story
Team Member Spotlight: Matt Landis
Matt Landis is the Community Enrichment Manager at St. John's Herr Estate, our community in Columbia, PA. In a few words, he "keeps life at St. John's Herr Estate lively" through a variety of activities built to match the diversity of people and personalities on campus. From darts, shuffleboard, and Wii bowling leagues, to fitness... Click to read the full story
---
Service of Remembrance Video
2021 Service of Remembrance video created by our Pastoral Care team.
---
Several times a year, Luthercare circulates its corporate newsletter, Experiences, which provides readers with a glimpse of the most important happenings at Luthercare, our senior living campuses and our child care centers.
In addition, Experiences also features any important upcoming events or news at Luthercare. Click below to read or download some of our most recent newsletters!
Philanthropy Newsletters & Updates