COVID-19 Pandemic Video –
The Effect of the Pandemic on Luther Acres Campus, Residents & Staff
As we moved forward in our journey through the pandemic, we felt it was important to share what we faced during the outbreak at Luther Acres Healthcare Center, the impact it has had, and where we go from here.
This is video dedicated to our Luthercare residents who went above and beyond in supporting our team members during the pandemic, and to the residents who have passed during this time. And, to our frontline team, our healthcare heroes who have selflessly served our residents during the coronavirus pandemic.
Watch now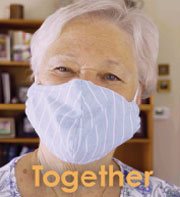 News
Team Member Spotlight: Melinda Graham, RN, BSN, PCHA
Melinda Graham, RN, BSN, PCHA, is the Personal Care Manager at St. John's Herr Estate. In her three-plus years with Luthercare, Melinda has taken on a variety of roles ranging from Registered Nurse Supervisor, Clinical Systems Specialist, and Clinical Care Coordinator. Her time with us reflects a similarly varied 24-year career in nursing, where she... Click to read the full story
Team Member Spotlight: John Robison
If you're outside on any given day at our Lititz community, there's a good chance that you'll see this month's featured Team Member. Meet John Robison, our Grounds Supervisor at Luther Acres. John has been with Luthercare for two-and-a-half years, and alongside his team, John takes care of mowing, weeding, shrub- and tree-trimming, leaf... Click to read the full story
Team Member Spotlight: Lauren Capobianco
Lauren Capobianco had her heart set on helping people from a young age. Though her original intent was to be a lawyer, she found that nursing was another excellent way to serve her community. Now, she works to help people heal as a Licensed Practical Nurse in our Rehab to Home Center at Spang Crest.... Click to read the full story
---
Service of Remembrance Video
2021 Service of Remembrance video created by our Pastoral Care team.
---
Several times a year, Luthercare circulates its corporate newsletter, Experiences, which provides readers with a glimpse of the most important happenings at Luthercare, our senior living campuses and our child care centers.
In addition, Experiences also features any important upcoming events or news at Luthercare. Click below to read or download some of our most recent newsletters!
Philanthropy Newsletters & Updates