Evelyn Gonzalez is a Certified Nursing Assistant at Luther Acres — A Luthercare Community. Prior to her joining us as a CNA in 2010, she helped to take care of her own grandparents, worked in the finance side of healthcare, and even pursued training to be a dental assistant. She has also worked at Luther Acres as a restorative aide/certified nursing assistant, serving as a bridge between our therapy and nursing teams and helping residents be more independent every day.
As a CNA, Evelyn works with residents in our skilled nursing Healthcare Center to provide hands-on care and support. She assists residents with their day-to-day needs, such as dressing, bathing, and grooming, and supports their personalized therapy goals and serves as a vital link between the residents and the clinical team. Residents often get excited about sharing their progress with her, and as a caregiver, it's personally rewarding to see the results of their hard work. "They're eager to show you what they've accomplished, and you feel happy for making them happy," Evelyn said.
Evelyn's work also involves soft skills like communication and compassion. The nature of long-term care provides a day-to-day consistency that allows for more time to get to know the people you are supporting. Developing familiarity and relationships with residents is an important part of providing comprehensive care because as Evelyn said, "People care about who is taking care of them." In addition to residents, Evelyn has gotten acquainted with many families through her work over the years and occasionally will run into them while outside of work. "They're always thankful for what we do; they appreciate it. We try to not get a tear in our eye because they start reminiscing. It's nice to know that they appreciate and remember what we did for them," Evelyn said.
Thank you, Evelyn, for the support you provide! We're so glad to have you as a part of our team!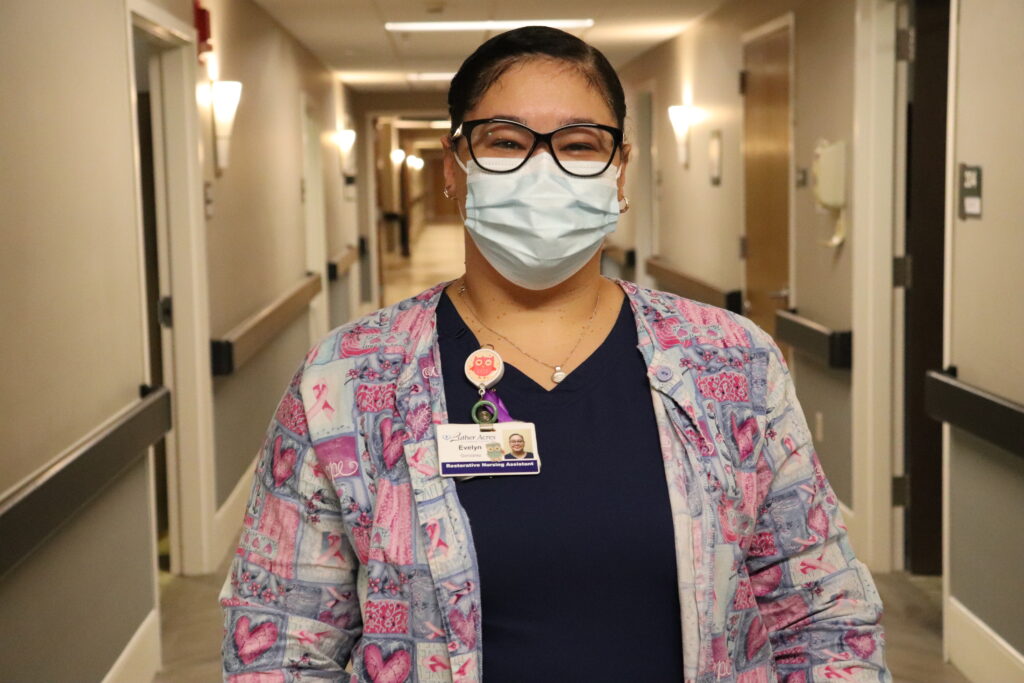 For more information on how you can make a difference in our community like Evelyn does, check out the open positions in the "Careers" tab!