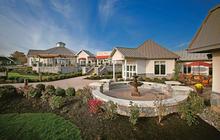 Luther Acres, the Luthercare senior living community in Lititz, will host its 8th annual Wellness Fair and Open House on Thursday, April 25. The day features educational seminars from 8:30 a.m. until 2:15 p.m.; an Open House from 11:30 a.m. to 3:00 p.m.; and a health fair from 11:30 a.m. until 3:00 p.m. The health fair, with the theme "Treasure Your Health!," will take place in the Community Room at the Luther Acres Towne Center, at 250 St. Luke Drive, Lititz. Seminars will take place in and around the Towne Center. The day's events are open to the public, and there is no charge to attend.
The Open House will feature tours of a beautiful one-bedroom apartment and a two-bedroom cottage. Visitors will have the opportunity to chat with Sales Counselors and learn more about the vibrant lifestyle and the full continuum of care available at Luther Acres.
Health Fair attendees can visit with more than 35 vendors who will be ready to answer health-related questions and provide various screenings, including bone density, blood sugar, circulation, hearing and eye/foot reaction time. Hand massages and health food tastings will be available. There will be many opportunities to play games and win small prizes.
The small-group educational seminars will feature 14 presenters speaking on the latest information about preventive health and healthy lifestyle topics. The seminar schedule and campus locations are listed below.
8:30 to 9:15 a.m.
"The Palliative Care Umbrella," led by Hospice & Community Care and the Pathway Center for Grief and Loss. This presentation will address the services of Palliative Medicine Consultants, Supportive Care, Hospice Care and the Pathways Center for Grief and Loss, and how each is used to improve the quality of life for all throughout the course of an illness.
Location: Chapel
"Unmasking the Mystery of Preplanning," led by Charles F. Snyder Funeral Home. This seminar discusses what to expect in preplanning arrangements and answering your questions.
Location: Theater
9:30 to 10:15 a.m.
"Reflections: Life Review and Reminiscing," led by Hospice & Community Care and the Pathway Center for Grief and Loss. This interactive program provides insight on how and why reminiscing is so beneficial. This walk through time will bring smiles, laughter, and possibly tears, as we celebrate our lives together.
Location: Chapel
"Enjoying Life with Good Hearing," led by Hearing Center of Lancaster. This presentation will address hearing loss, discuss how hearing loss can be addressed to maintain your quality of life, and review strategies, techniques and tips to enable good quality communication with a person with hearing loss.
Location: Theater
"Let's Talk Wigs: It's Not Just Hair," led by SJ Kober's Boutique. Learn how to wear a wig, what your wig type would be, and why you don't always get what you pay for.
Location: Wellness Center
10:30 to 11:15 a.m.
"Senior Scams," led by Jerry Mitchell of the Pennsylvania Office of Attorney General. 
Location: Chapel
"Meet our Meats … A Healthy Alternative," led by The Savory Gourmet. 
Location: Theater
"Knee, Hip Pain & Arthritis: Options for Pain Relief," led by Ephrata WellSpan. Learn about the anatomy of the knee and hip, conditions related to arthritis and the importance of getting a proper diagnosis by a Board-certified surgeon.
Location: Wellness Center
11:30 a.m. to 12:15 p.m.
"Break Free from Pelvic Floor Disorders," led by WellSpan Gynecologic Oncology, WellSpan Urogynecology & Pelvic Reconstructive Surgery, and WellSpan Midlife Health & Wellness. This presentation is designed to educate women on issues related to pelvic health, including prolapse, incontinence and other pelvic floor disorders.
Location: Chapel
"Antioxidants," led by FLIK Lifestyles. This seminar will discuss spring vegetables and ancient grains.
Location: Theater
"Managing Knee and Hip Pain," led by HealthPRO®. This seminar features a discussion on the consideration for replacement.
Location: Wellness Center
12:30 to 1:15 p.m.
"Food Patterns and Nutrients Supporting Healthy Brains," led by Penn State Extension. 
Location: Chapel
"Will, Power of Attorney & Elder Planning Workshop," led by Law Office of Shawn Pierson. This workshop will discuss the benefits of estate and lifetime planning. 
Location: Theater
1:30 to 2:15 p.m.
"Helping You Stay Mobile Longer," led by AAA. This course focuses on how you can feel safe behind the wheel while experiencing new places and creating new memories. 
Location: Chapel
"Healthy Moves," led by Functional Fitness. Learn how to use "fun" equipment to enhance flexibility and muscle strength. Chair-sitting and free-standing exercises are included in this seminar.
Location: Wellness Center
Numerous door prizes, graciously donated by area businesses, will be given away throughout the day. For more information, please call Becky Row at 833.328.0289, ext. 1640.
About Luthercare:
Founded in 1949, Luthercare, a social ministry organization affiliated with the Lower Susquehanna Synod of the Evangelical Lutheran Church in America and a member of Lutheran Services in America, is a leading provider of independent, personal care and skilled care residences in Lancaster and Lebanon counties. Luthercare operates Luther Acres, a Continuing Care Retirement Community in Lititz, Pa.; Spang Crest, a rehabilitation center, skilled nursing and memory support personal care community in Lebanon, Pa.; and St. John's Herr Estate, an independent living and personal care community in Columbia, Pa. Additionally, Luthercare operates four PA Keystone Stars-accredited child care and early learning centers in Lancaster, Reamstown, Marietta and Annville. Luthercare, a pioneer in Child Care Programs, also offers a Mentoring Program, which aids home-based child care providers in Lebanon and Lancaster counties.