Today, Luthercare (Lititz, PA) and Diakon (Topton, PA) announced a partnership to continue their work in Lutheran Disaster Response (LDR).  As Lutheran social ministry organizations, both organizations have participated individually in the LDR network for many years.  This partnership allows the two organizations to utilize their resources in a more efficient manner while also collaborating with other affiliates of the network.
The partnership does not alter the primary coverage area of the services being provided, only how those services are led and provided.  Luthercare will take the leadership role in managing the partnership's activities, including the development of the plan for, and response to, active disasters while also interacting and coordinating with volunteer organizations in parts of Pennsylvania and Maryland.  Diakon will continue to serve as the fiscal agent and affiliation partner to the Lutheran Disaster Response of the ELCA.
"We are delighted to partner with Diakon in this effort and look forward to maximizing the impact of our resources on the overall LDR network," says Carl McAloose, President & CEO of Luthercare.
Scott Habecker, President & CEO of Diakon, indicated, "As Lutheran social ministry organizations with similar values and objectives, we are thrilled to combine forces with Luthercare in this partnership to enhance the community impact across our service area."
William Snyder, consultant for Luthercare's Greenstone Mosaic affiliate, will provide leadership in reorganization while also working with other LDR affiliates across the various Synod territories.  Combined, the partnership will extend to the Delaware-Maryland, Lower Susquehanna, and Upper Susquehanna Synods.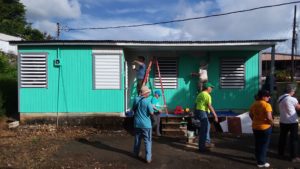 Lutheran Disaster Response volunteers are shown on a mission trip to Puerto Rico.
About Luthercare:
Founded in 1949, Luthercare, a social ministry organization affiliated with the Lower Susquehanna Synod of the Evangelical Lutheran Church in America and a member of Lutheran Services in America, is a leading provider of independent, personal care and skilled care residences in Lancaster and Lebanon counties. Luthercare operates Luther Acres, a Continuing Care Retirement Community in Lititz, Pa.; Spang Crest, a rehabilitation center, skilled nursing and memory support personal care community in Lebanon, Pa.; and St. John's Herr Estate, an independent living and personal care community in Columbia, Pa. Additionally, Luthercare operates three PA Keystone Stars-accredited child care and early learning centers in Annville, Marietta, and Reamstown. Luthercare, a pioneer in Child Care Programs, also offers a Mentoring Program, which aids home-based child care providers in Lancaster County.