Luthercare is delighted to announce the winners of our 2020 Nursing Scholarships. We had many wonderful candidates from school districts in Lancaster and Lebanon Counties and awarded $1,000 scholarships to eight deserving recipients who are pursuing a career in the nursing industry.  The 2020 recipients are: Amanda Beck (Warwick), Alissa Brubaker (Manheim Central), Lindsey Burkett (Manheim Township), Danielle Hackman (ELCO), Carlie Martin (Warwick), Nickea Metzler (Manheim Central), Tenaya Metzler (Manheim Central), and Marysette Velazquez (Lebanon High). These winners are all passionate about the nursing field and will continue their education and professional development at:
Eastern University
Pennsylvania College of Health Sciences
Reading Hospital School of Health Sciences
West Chester University
University of Pennsylvania
The annual nursing scholarships reflect Luthercare's continuing commitment to quality care and the education of future healthcare professionals. These students have embarked on a challenging but rewarding path, and we're privileged to support them on their journey.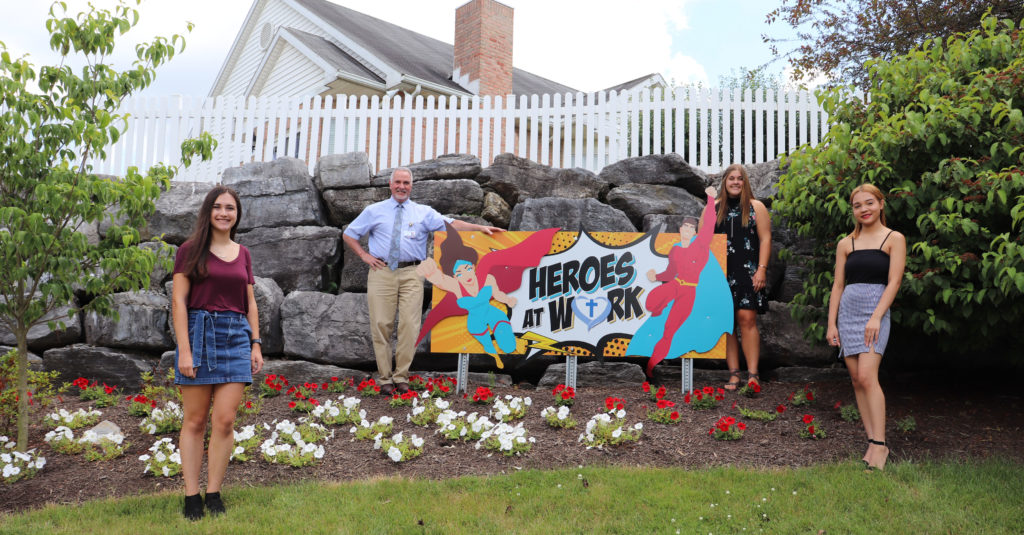 Luthercare President and CEO Carl R. McAloose is pictured here with (from left) Alissa Brubaker, Danielle Hackman and Marysette Velazquez. The other recipients were unavailable for a photo.
About Luthercare:
Founded in 1949, Luthercare, a social ministry organization affiliated with the Lower Susquehanna Synod of the Evangelical Lutheran Church in America and a member of Lutheran Services in America, is a leading provider of independent, personal care and skilled care residences in Lancaster and Lebanon counties. Luthercare operates Luther Acres, a Continuing Care Retirement Community in Lititz, Pa.; Spang Crest, a rehabilitation center, skilled nursing and memory support personal care community in Lebanon, Pa.; and St. John's Herr Estate, an independent living and personal care community in Columbia, Pa. Additionally, Luthercare operates four PA Keystone Stars-accredited child care and early learning centers in Lancaster, Marietta, Reamstown and Annville. Luthercare, a pioneer in Child Care Programs, also offers a Mentoring Program, which aids home-based child care providers in Lebanon and Lancaster counties.