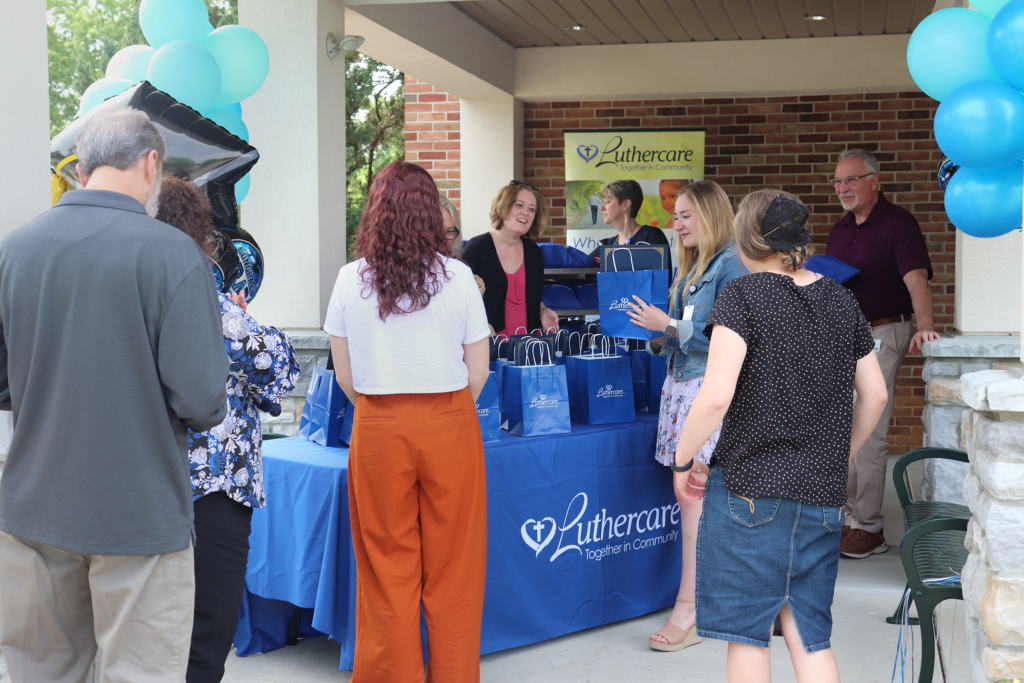 Luthercare is delighted to announce it has awarded $36,000 to graduating high school seniors who are pursuing careers in the nursing industry. This year, 36 deserving students from schools across Lancaster and Lebanon Counties were selected to receive a $1,000 Luthercare Nursing Scholarship.
Recipients were awarded their scholarships during a drive-through reception on Monday, May 23, on the campus of Luther Acres, a Luthercare community at 600 East Main Street, Lititz, where Luthercare team members greeted and congratulated the winners.
Luthercare President & CEO Carl R. McAloose expressed his appreciation and excitement for the futures of the students. "I would like to congratulate each of this year's scholarship winners and thank them for choosing to enter the nursing field. As we have witnessed during the pandemic, the need for dedicated, passionate nurses has never been greater, and Luthercare is privileged to support these future healthcare heroes. I am also truly grateful for our donors, many of whom are residents of our senior living communities, for supporting our Nursing Scholarship Fund and enabling us to award these scholarships."
The 2022 Luthercare Nursing Scholarship recipients are: Gabriella Blouch, Allison Elizabeth Cooper, and Isaac Sider, Annville-Cleona High School; Lexie Keffer, Megan Miller, and Ashlee Vasquez, Cedar Crest High School; Aubrey Haldeman, Cocalico High School; Hallie Rich, Conestoga Valley High School; Morgan Mullhausen and Hannah Mylin, Donegal High School; Andrea Kline and Chloe Swanger, ELCO High School; Ella Dehmey, Ashley Geese, Charlotte Hershey, Ainsely Raybold, Abigail Rickabaugh, and Ruth Wright, Elizabethtown Area High School; Maya Ehst, Ephrata High School; Gabrielle Kauffman, Hope Monderewicz, Victoria Nolt, and Diana Redcay, Garden Spot High School; Ella Horst, Lampeter-Strasburg High School; Kimberly Rodriguez Torres, Lebanon High School; Rachel Hollinger, Manheim Central High School; William Orr, Manheim Township High School; Maria Longenecker and Amerie Wright, McCaskey High School; Yu-Kyoung "Jessica" Kim, New Covenant Christian School; Meckenzie Koennecke and Brynn McCafferty, Palmyra Area High School; Courtney Smoker, Penn Manor High School; and Ann Barney, Allison Keeney, and Jasmine Minnich, Warwick High School.
These winners are all passionate about the nursing field and will continue their education and professional development at:
Alvernia University
Bloomsburg University
Duquesne University
Eastern University
Eastern Mennonite University
Harrisburg Area Community College
Indiana University of Pennsylvania
Lebanon Valley College
Liberty University
Mansfield University
Messiah University
Palm Beach Atlantic University
Pennsylvania College of Health Sciences
Pennsylvania State University
Reading Hospital School of Sciences
Salisbury University
Thomas Jefferson University
University of Delaware
University of Pittsburgh
Waynesburg University
York College of Pennsylvania
The annual nursing scholarships, funded by generous donations to the Luthercare Nursing Scholarship Fund, reflect Luthercare's continuing commitment to quality care and the education of future healthcare professionals. We wish these students the best of luck on their journeys.
About Luthercare:
Founded in 1949, Luthercare, a social ministry organization affiliated with the Lower Susquehanna Synod of the Evangelical Lutheran Church in America and a member of Lutheran Services in America, is a leading provider of independent, personal care and skilled care residences in Lancaster and Lebanon counties. Luthercare operates Luther Acres, a Continuing Care Retirement Community in Lititz, Pa.; Spang Crest, a rehabilitation center, skilled nursing and personal care with memory support community in Lebanon, Pa.; and St. John's Herr Estate, an independent living and personal care community in Columbia, Pa. Additionally, Luthercare operates three PA Keystone Stars-accredited child care and early learning centers in Annville, Marietta and Reamstown. Luthercare, a pioneer in Child Care Programs, also offers a Mentoring Program, which aids home-based child care providers in Lancaster County.