As the holiday season quickly approaches, we would like to provide our weekly update on how the coronavirus is impacting Luthercare communities. We would also like to address the rising case counts, both locally and nationwide, and urge our residents, families and team members to continue to be diligent in mitigating the spread of the virus.
Luther Acres
There are no cases of coronavirus among residents at the Luther Acres Healthcare Center. Weekly universal testing of residents and team members continues as a result of a positive asymptomatic case found in one team member last week. Treatment measures are in place to minimize risk throughout the building, and visitation remains suspended. We are adhering to the regulatory standards regarding continued universal testing from the Centers for Medicare and Medicaid Services (CMS). We will continue to provide regular communication to all resident responsible parties to provide more personal updates regarding their loved ones and our reopening status.
In Personal Care, residents of the first and third floors and all team members are being tested after possible exposure to a team member of the outpatient therapy department who has tested positive. Testing will occur weekly over the next two weeks for the affected residents and all Personal Care team members. As a result of the possible exposure, visitations in Personal Care have been suspended. Families and friends will be advised when the building is re-opened for visitation.
In Independent Living, residents who had possible exposure to the outpatient therapy team member who tested positive for the virus have been notified and are currently under quarantine and are awaiting test results. Additionally, because of three positive cases among team members of the dining staff in the Muhlenberg Building, the dining room in The Round is closed to resident in-person dining, with all meals being delivered or available for pick-up. Testing of dining team members will continue for at least two more weeks. Dining in The Round will re-open for in-person dining when it's determined safe for residents. Additionally, a resident of the Luther Townhome tested positive for the virus earlier this week and is currently in the hospital receiving treatment.
Visitation guidelines for Independent Living residents remain unchanged.
Please join Luther Acres in keeping the resident and affected team members in your thoughts and prayers for healing.
St. John's Herr Estate
There are no cases of coronavirus among residents or team members at St. John's Herr Estate.
We are adhering to the regulatory standards from the Department of Human Services regarding continued universal testing based on the positivity rate within the county. Visitation within the Personal Care community continues to go well. All visitors must call ahead to reserve a visitation time by calling 717.684.0678, ext. 118.
Visitation guidelines for Independent Living residents remain unchanged.
Spang Crest
There are no cases of coronavirus among residents. A team member tested positive this week, and treatment measures were put in place to minimize risk throughout the building. We will continue to provide regular communication to all resident responsible parties to provide updates regarding our reopening status.
***
We encourage families and residents to communicate regularly through phone calls, texts, video chat, and other virtual means. We have team members who can help walk you through the process. If you need assistance, please reach out to the Executive Director at your campus. They are: Luther Acres Executive Director Craig Shelly, 717.626.1171; St. John's Herr Estate Executive Director Anita Martin, 717.684.0678; and Spang Crest Executive Director Dan Deitzel, 717.274.1495.
***
The Pennsylvania Department of Health announced today that Pennsylvania added record numbers of cases of COVID-19 in a single day; this is the second consecutive day that more than 5,000 new cases have been reported. The prevalence of the virus is increasing not only locally, but across the country as well. This week, the Centers for Disease Control and Prevention issued guidance on how to celebrate Thanksgiving safely because traditional Thanksgiving gatherings, with family and friends from multiple households, can increase the chances of getting or spreading COVID-19 or the flu.
The CDC offered several tips, highlighting that the safest way to celebrate Thanksgiving this year is to gather with people in your household only. We encourage you to review the key safety information below. As always, we remind you to wear a mask, wash your hands frequently and maintain a distance of 6 feet from others.
If Attending a Gathering:
Bring your own food, drinks, plates, cups, and utensils.
Wear a mask, and safely store your mask while eating and drinking.
Avoid going in and out of the areas where food is being prepared or handled, such as in the kitchen.
Use single-use options, like salad dressing and condiment packets, and disposable items like food containers, plates, and utensils.
If Hosting a Gathering:
Have a small outdoor meal with family and friends who live in your community.
Limit the number of guests.
Have conversations with guests ahead of time to set expectations for celebrating together.
Clean and disinfect frequently touched surfaces and items between use.
If celebrating indoors, make sure to open windows.
Limit the number of people in food preparation areas.
Have guests bring their own food and drink.
If sharing food, have one person serve food and use single-use options, like plastic utensils.
To read the full CDC article, visit https://www.cdc.gov/coronavirus/2019-ncov/daily-life-coping/holidays/thanksgiving.html.
We understand how frustrating and isolating this year has been, and like you, we miss gathering with our friends and family. We urge you to follow the CDC guidance and remind you that this is temporary.  We will get through this together by keeping each other safe and protecting the most vulnerable.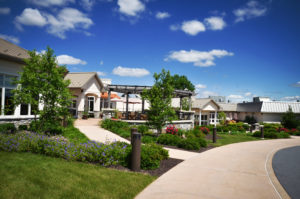 About Luthercare:
Founded in 1949, Luthercare, a social ministry organization affiliated with the Lower Susquehanna Synod of the Evangelical Lutheran Church in America and a member of Lutheran Services in America, is a leading provider of independent, personal care and skilled care residences in Lancaster and Lebanon counties. Luthercare operates Luther Acres, a Continuing Care Retirement Community in Lititz, Pa.; Spang Crest, a rehabilitation center, skilled nursing and memory support personal care community in Lebanon, Pa.; and St. John's Herr Estate, an independent living and personal care community in Columbia, Pa. Additionally, Luthercare operates PA Keystone Stars-accredited child care and early learning centers in Marietta, Reamstown and Annville. Luthercare, a pioneer in Child Care Programs, also offers a Mentoring Program, which aids home-based child care providers in Lebanon and Lancaster counties.