Luthercare is continuing its commitment to provide regular information on how COVID-19 is impacting Luthercare communities, and we are pleased to see the success of the vaccination roll-out across our senior living communities. We currently have no cases among residents or team members. Although Lancaster and Lebanon Counties are seeing a decrease in the level of community spread of COVID-19, we would like remind you of the importance of remaining diligent in mitigating the spread of the virus.
Next week will mark a significant step in moving forward in reopening our communities. Due to the numbers of Healthcare Center, Personal Care and Independent Living residents who have been vaccinated against the virus, as well as recent direction from the Centers for Medicare & Medicaid Services and the Centers for Disease Control and Prevention, Luthercare will begin to ease some restrictions on dining, activities and visitation at our campuses beginning Tuesday, March 23. That date marks two weeks since the first vaccination clinic for Independent Living residents.
As a result, some of the changes include:
Campus restaurants will reopen to in-person dining for residents, although there will be limits on capacity. Reservations are required, and masks must be worn until seated.
Indoor activities and small resident group activities, such as Bingo and card playing, may resume with limited group size, appropriate social distancing and mask wearing.
Outdoor group activities may resume with mask wearing and limited group size.
Outpatient therapy gyms will reopen to resident treatments with a maximum of two residents at a time.
Independent Living residents may receive one to two visitors per week, and they are not required to be on an approved visitor list. Residents should receive visitors in their apartments, cottages or available outdoor space, rather than in public, common areas. Visitors are required to be screened at entrances and should wear a mask and practice physical distancing.
While the use of campus fitness centers have returned, hours and capacity remain limited. At Luther Acres, residents must continue to make a reservation to use the Wellness Center.
More detailed, individual campus reopening information is available by reaching out to the Executive Director at your campus. They are:
Luther Acres Executive Director Craig Shelly, 717.626.1171
St. John's Herr Estate Executive Director Anita Martin, 717.684.0678
Spang Crest Executive Director Dan Deitzel, 717.274.1495
For now, residents, staff and visitors need to continue practicing the 3 W's: Wear a mask, Wash your hands, Watch your distance. Some residents and staff are not vaccinated or haven't received their second doses, so not everyone is protected from COVID-19 and could be infected by visitors. This continues to be a critical time, and we ask you to continue to practice these precautions to keep yourself, your neighbors, your friends, and your loved ones healthy and safe.

Luther Acres
There are currently no cases of COVID-19 among campus residents or team members. This week, we reopened communal dining in the Healthcare Center while utilizing safe dining protocols, including table dividers and table spacing for two residents per table. The Therapeutic Recreation Department continues to hold small resident group activities with social distancing and surgical masks. Scheduled family visitation continues in a designated visitation areas outside of the Healthcare Center. Salon service also continues serving residents three days a week.
On Thursday, campus Executive Director Craig Shelly outlined the reopening details at a televised town hall meeting that was broadcast to residents. His complete presentation is available to receive at campus reception desks. Recommendations are to continue practice social distancing and mask wearing, visit outdoors when possible, and to proceed with caution.

St. John's Herr Estate
There are no cases of COVID-19 among campus residents or team members.
Beginning next Tuesday, Personal Care visitation will be open without the need to pre-schedule an appointment time. Outdoor visits are recommended when weather permits, and no more than two visitors will be permitted in private rooms at a time.
For Independent Living residents, in-person dining, by reservation, will resume on Tuesday at 50 percent capacity. Masks must be worn until seated. Regarding visitation, Independent Living residents may receive one to two visitors per week and are not required to be on an approved visitor lists. Visitors are required to be screened at entrances and may not meet in public/common areas. All visitors must wear a mask covering their nose and mouth.
We appreciate your patience as we make changes to follow our state and federal guidelines.

Spang Crest
Spang Crest has no new cases among residents or team members. The most recent positive case among team members has been resolved after a period of quarantine. Employees were tested yesterday, and all tests returned negative. We will complete another round of testing next Thursday.
The second floor, where the positive employee worked, has been on quarantine and is expected to move to the Green Phase and reopen on Sunday. Residents of the second floor will then be able to resume beautician services, communal dining and visitation.
Under the guidance of CMS and CDC, if a resident has been fully vaccinated, they can have close contact (including touch) with a loved one, as long as both resident and visitor are wearing a mask. As always, a compassionate care visit can be scheduled if the resident's medical condition warrants. Throughout all these changes, we require visitors to wear a surgical mask, use the screening process at the main entrance, and follow the 3 W's: Wash your hands, Wear a mask, and Watch your distance. Thank you for your understanding!
***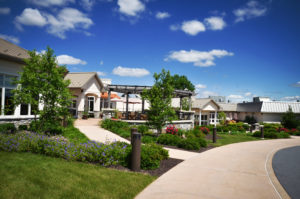 About Luthercare:
Founded in 1949, Luthercare, a social ministry organization affiliated with the Lower Susquehanna Synod of the Evangelical Lutheran Church in America and a member of Lutheran Services in America, is a leading provider of independent, personal care and skilled care residences in Lancaster and Lebanon counties. Luthercare operates Luther Acres, a Continuing Care Retirement Community in Lititz, Pa.; Spang Crest, a rehabilitation center, skilled nursing and memory support personal care community in Lebanon, Pa.; and St. John's Herr Estate, an independent living and personal care community in Columbia, Pa. Additionally, Luthercare operates PA Keystone Stars-accredited child care and early learning centers in Marietta, Reamstown and Annville. Luthercare, a pioneer in Child Care Programs, also offers a Mentoring Program, which aids home-based child care providers in Lebanon and Lancaster counties.