Luthercare continues to urge our residents, team members and the greater community to remain diligent in mitigating the spread of the coronavirus by following COVID-19 health and safety protocols. Keep practicing the 3 W's: Wear a mask, Wash your Hands, Watch your distance. Our residents are required to wear masks when leaving apartments or cottages, when going to the store, or anytime they may come into contact with others.
Luthercare, in partner with Phoebe Pharmacy, will continue to hold regular on-site vaccination clinics for new residents and newly hired team members, as well as current residents and staff now wishing to be inoculated. The combination of getting vaccinated and following the Centers for Disease Control and Preventions' recommendations for personal safety offer the best protection from COVID-19.
Regarding visitation, those planning to visit a loved one at a Luthercare community must check in at a screening location when arriving to a Luthercare campus. Visitors who fail to meet the screening requirements will be asked to return when symptoms resolve or cleared by a physician. All visitors should wear a mask, maintain a physical distance, and practice infection control measures.
We appreciate your patience as we make changes to follow our state and federal guidelines.
If you have questions regarding vaccination schedules, visitation or the reopening status of your loved one's community, please contact the Executive Director of that campus. They are:
Luther Acres Executive Director Craig Shelly, 717.626.1171
St. John's Herr Estate Executive Director Anita Martin, 717.684.0678
Spang Crest Executive Director Dan Deitzel, 717.274.1495
Luther Acres
At Luther Acres, 95 percent of residents have been vaccinated across all three levels of living. More vaccination clinics continue to be held to ensure team members and residents are given the opportunity to be vaccinated, whether they are new to the campus or have changed their mind and now wish to be vaccinated. The next clinic will be held by Phoebe Pharmacy on April 22.
The Healthcare Center remains in the Yellow Zone, following the discovering of two asymptomatic positive team members last week. Residents and staff have been tested weekly with no additional cases to date. Providing there are no additional cases, we anticipate being able to return to normal salon services, activities, dining and family visitation on Tuesday, April 20. More information will be shared as it becomes available.
In Personal Care, there are no current team member or resident cases. Resident visitation continues by appointment only and can be arranged by calling Alyssa Wojcik.
In Independent Living, there are no current resident cases. The resident who was listed in last week's update as being positive for COVID-19 has made a full recovery and is no longer under quarantine.
Luther Acres continues to look at ways to increase visitation opportunities and opening the campus to additional resident services. It is anticipated that those additional visitation opportunities and services will be shared in next week's report.
St. John's Herr Estate
An Independent Living resident has tested positive for the virus this week, and the individual is currently quarantining in their residence. There are no cases of COVID-19 among Personal Care residents or team members. All Personal Care residents and team members were tested this week per recommendations by the Centers for Disease Control and Prevention due to Lancaster County's positivity rate, and those results were negative.
At St. John's Herr Estate, 99 percent of Personal Care residents and 97 percent of Independent Living residents have received the vaccine. More vaccination clinics continue to be held to ensure team members and residents are given the opportunity to be vaccinated.
In Personal Care, visitors are required to call 717.449.5996 to schedule a visitation time. Visiting hours will be held daily from 9:00 a.m. – 11:00 a.m., 1:00 p.m. – 4:00 p.m., and 6:00 p.m. – 7:30 p.m.
Spang Crest
Spang Crest has one confirmed positive case this week and two tests pending among Healthcare Center team members. All residents received rapid tests, which returned negative; PCR tests, which take longer to receive results, were also done, and those results have not yet returned. Due to Lebanon County's positivity rate, testing will continue twice a week for all team members, adhering to the regulatory standards regarding continued universal testing from the Centers for Medicare and Medicaid Services (CMS).
The Healthcare Center is currently a Yellow Zone, with no communal dining or salon services. In-person visitation has been suspended and will be re-evaluated on Monday. Families are still able to schedule Compassionate Care visits, as appropriate, and are encouraged to continue window and virtual visits. These changes do not affect residents in Personal Care, which remains a Green Zone.
At Spang Crest, 91 percent of residents have been vaccinated throughout our community. More vaccination clinics continue to be held to ensure residents and team members are given the opportunity to be vaccinated.
***
About Luthercare: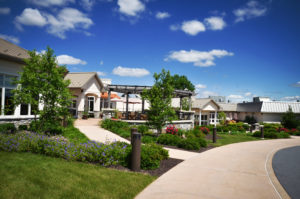 Founded in 1949, Luthercare, a social ministry organization affiliated with the Lower Susquehanna Synod of the Evangelical Lutheran Church in America and a member of Lutheran Services in America, is a leading provider of independent, personal care and skilled care residences in Lancaster and Lebanon counties. Luthercare operates Luther Acres, a Continuing Care Retirement Community in Lititz, Pa.; Spang Crest, a rehabilitation center, skilled nursing and memory support personal care community in Lebanon, Pa.; and St. John's Herr Estate, an independent living and personal care community in Columbia, Pa. Additionally, Luthercare operates PA Keystone Stars-accredited child care and early learning centers in Marietta, Reamstown and Annville. Luthercare, a pioneer in Child Care Programs, also offers a Mentoring Program, which aids home-based child care providers in Lebanon and Lancaster counties.