With today's update, Luthercare is pleased to announce it will end its regular weekly updates that began at the start of the pandemic. We have continued to see success from vaccinations in our communities and have no cases of COVID-19 among residents or team members. Moving forward, we will release additional COVID-19 information only when there is something new to report to our residents, their families, and staff.
Health screenings for visitors to our Healthcare Centers and Personal Care communities must continue. They will sign in and answer questions at our health screening kiosks prior to visiting.
In community news, the Luther Acres Healthcare Center announced the following changes will occur immediately, based on the continued decline in the Lancaster County COVID positivity rate (currently at 1.4%) along with the increased campus vaccination percentages and the positive impact on our residents.
We will remove the infection control risk assessment barrier in the hallway of the designated COVID area and prepare the private rooms in this area for single occupancy resident care rooms, as it was pre-pandemic. The area will still be dedicated to providing COVID care should the need arise.
In the Holder Dining Room, all table barriers will be removed, and no more than two residents will be seated per table. Residents must continue to wear masks traveling to and from the dining, and team members and family members must wear masks while in the dining room. Unvaccinated residents will occupy a single table.
Residents can again begin to participate in regularly scheduled campus church services, although mask-wearing is still encouraged for all residents in attendance.
The Therapeutic Recreation Department is permitted to begin booking outside entertainment, and we will only book entertainers who have been vaccinated. Mask-wearing will be encouraged for all residents during these entertainment activities.
The Therapeutic Recreation Department will also begin to re-establish the on-campus volunteer program. Volunteers are considered an extension of our direct care team and will be required to follow the same infection control protocols as all team members.
The No One Dies Alone Program will resume on August 1 for the on-campus support network. Volunteers are considered an extension of our direct care team and will be required to follow the same infection control protocols as all team members.
Visitation for family and friends to the Healthcare Center remains unchanged. After completing the screening protocols, visitation is to occur in resident rooms only, not in common areas. Unvaccinated visitors should wear masks and maintain social distancing while visiting in resident rooms. Mask wearing for vaccinated visitors who are visiting vaccinated residents is optional in resident rooms, as long as it is the resident's preference.
Luthercare strongly recommends that all visitors who are eligible to receive the vaccine do so, as it is the best way to protect yourself and your loved ones from contracting the virus. If someone has not received the vaccine and still wants to visit, they will be asked to wear a mask and maintain an appropriate amount of social distance during the visit. The safest place to visit with your loved one is still outdoors.
In partnership with Phoebe Pharmacy, Luthercare will continue to hold regular on-site vaccination clinics for new residents and newly hired team members, as well as current residents and staff now wishing to be inoculated.
If you have questions about visitation at a Luthercare community, please contact the Executive Director of that campus. They are:
            Luther Acres Executive Director Craig Shelly, 717.626.1171
St. John's Herr Estate Executive Director Anita Martin, 717.684.0678
Spang Crest Executive Director Dan Deitzel, 717.274.1495
***
About Luthercare: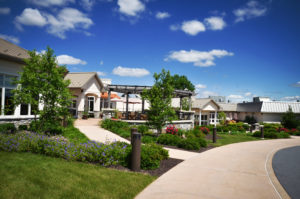 Founded in 1949, Luthercare, a social ministry organization affiliated with the Lower Susquehanna Synod of the Evangelical Lutheran Church in America and a member of Lutheran Services in America, is a leading provider of independent, personal care and skilled care residences in Lancaster and Lebanon counties. Luthercare operates Luther Acres, a Continuing Care Retirement Community in Lititz, Pa.; Spang Crest, a rehabilitation center, skilled nursing and memory support personal care community in Lebanon, Pa.; and St. John's Herr Estate, an independent living and personal care community in Columbia, Pa. Additionally, Luthercare operates PA Keystone Stars-accredited child care and early learning centers in Marietta, Reamstown and Annville. Luthercare, a pioneer in Child Care Programs, also offers a Mentoring Program, which aids home-based child care providers in Lebanon and Lancaster counties.