There has been much discussion in recent days and weeks regarding the COVID-19 vaccine, and we know there are many questions surrounding it. Luthercare would like to share the information that is available to us at this time.
The vaccine has been approved for use under the Emergency Use Authorization (EUA) by the U.S. Food and Drug Administration (FDA). The first supply of vaccines has become available, and healthcare workers and long-term care residents have been prioritized as the first to receive it. Luthercare's official position is that any and all individual who are provided with an opportunity to get the COVID-19 vaccine should do so.
The Centers for Disease Control and Prevention (CDC) is partnering with CVS and Walgreens to offer on-site COVID-19 vaccination services to residents at nursing homes and assisted living facilities. This program, called The Pharmacy Partnership for Long-term Care (LTC) Program, "will facilitate safe vaccination of this critical patient population, while reducing the burden on LTC facilities and health departments," according to the CDC. Under this program, Luthercare residents and staff within our Healthcare and Personal Care levels of care will get early access to the vaccine. In fact, the Luther Acres Healthcare Center has been notified that its first two clinic dates will be January 9 and January 30. Other clinic dates have not yet been received.
The Pennsylvania Department of Health (DOH) controls the access, distribution, clinic dates, and all related aspects of vaccination. (The DOH has published a final interim COVID-19 vaccination plan. The 68-page document is available for review here: https://www.health.pa.gov/topics/Documents/Programs/Immunizations/Vaccine%20Plan%20V.3%20FINAL.pdf.) Luthercare wants all Independent Living residents to have access to the vaccine; however, we have no control over when and how it will be available to you. The CDC, through their Advisory Committee on Immunization Practices, did not include Independent Living residents on their list, thus they are not included in the first vaccine group. Luthercare has expressed concern over this to our state association, as have many other Continuing Care Retirement Community providers, but this has not changed the outcome. We will continue to advocate for priority access of Independent Living residents for vaccination.
It was reported by CVS, in a webinar, that it anticipates Independent Living residents will have vaccine access shortly after the long-term care group. No definitive date has been given. Additionally, there may be additional on-site clinics; if not, state and local health departments will offer them at their locations. Lastly, some local pharmacies will offer vaccine programs for Independent Living residents. In the meantime, Luthercare will provide a fact-based information sheet to aid residents in making an informed choice about vaccination.
As we have shared before, the combination of getting vaccinated and following the CDC's recommendations for personal safety offer the best protection from COVID-19. This means wearing a mask at all times when outside your cottage or apartment, practicing social distancing, washing your hands often, and avoiding indoor gatherings. This means making difficult decisions as the Christmas holiday approaches, but it is the key to protecting yourself and those around you.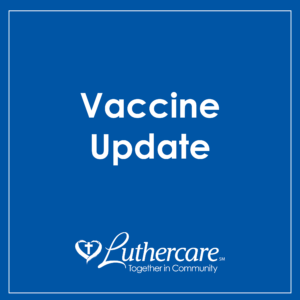 About Luthercare:
Founded in 1949, Luthercare, a social ministry organization affiliated with the Lower Susquehanna Synod of the Evangelical Lutheran Church in America and a member of Lutheran Services in America, is a leading provider of independent, personal care and skilled care residences in Lancaster and Lebanon counties. Luthercare operates Luther Acres, a Continuing Care Retirement Community in Lititz, Pa.; Spang Crest, a rehabilitation center, skilled nursing and memory support personal care community in Lebanon, Pa.; and St. John's Herr Estate, an independent living and personal care community in Columbia, Pa. Additionally, Luthercare operates PA Keystone Stars-accredited child care and early learning centers in Marietta, Reamstown and Annville. Luthercare, a pioneer in Child Care Programs, also offers a Mentoring Program, which aids home-based child care providers in Lebanon and Lancaster counties.