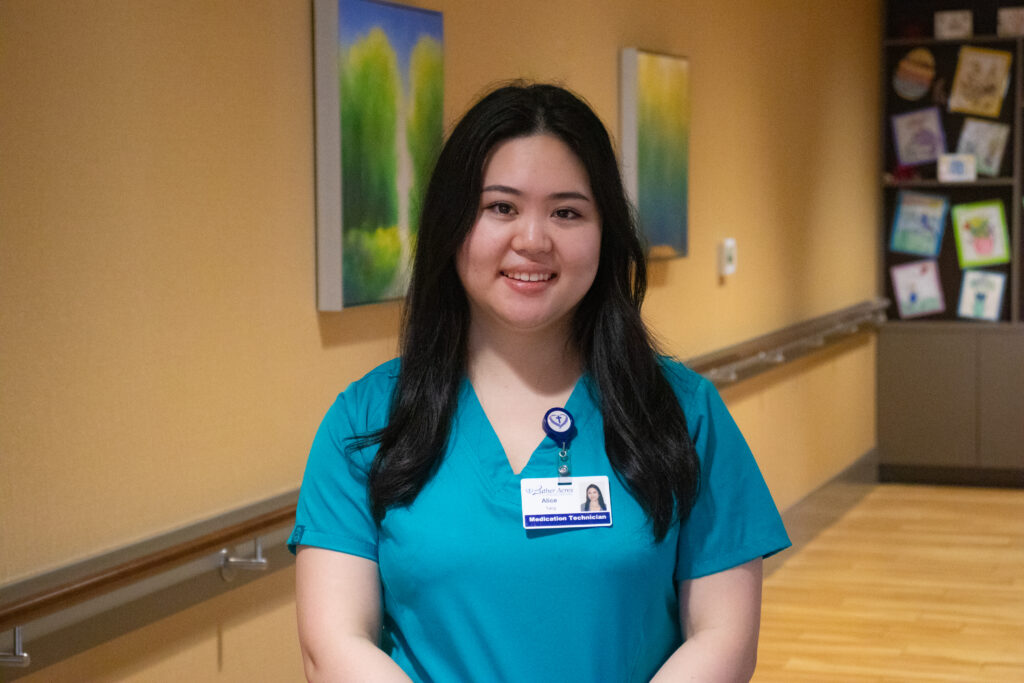 "Every day is a new day for residents, and every day there's a chance for you to make it better. … You go in and try to give them the best that you can each day"—Alice Tang
After studying forensic science at Alvernia University, Alice Tang started her career in healthcare by working in retail and hospital pharmacies. Then, in 2019, she decided to shift toward nursing and joined our team as a Resident Care Aide. Later, she would earn her Medication Technician certification, which would lead to her current position as a Personal Care Shift Leader. Like many others, Alice was drawn to senior living in part due to the positive experience she had growing up in a multigenerational household. She has since remained close to her grandmother and retains a sense of responsibility for taking care of our elders. Now, Alice carries out that duty every day while providing hands-on care to older adults at Luther Acres—A Luthercare Community.
Alice works in all areas of our Muhlenberg building, but she most frequently supports personal care residents with dementia and Alzheimer's. On the most fundamental level, Alice's work is about knowing and understanding the people in her care, being able to meet their needs, and making everyone feel comfortable. Accomplishing this can involve helping with daily tasks, such as bathing, dressing, and eating, and by providing individualized assistance with medications and treatments. As a Shift Leader, Alice also guides, develops, and helps her fellow Team Members so residents can receive the best care possible.
In between the routines of the day, Alice gets to make connections with residents—her favorite part of the job. "Everybody has a different story, and you get to learn so much. … It's fun to get to know everyone. It's something to look forward to," she said. Even simple tasks, like sitting with a resident and listening or offering a snack, can bring a smile to their face. "It's really rewarding," Alice said.
In the future Alice is looking to grow and has considered going back to school to become a Licensed Practical Nurse. "I always want to know more; I always want to do more" she said. We're thankful to have someone on our team that we can count on that is committed to improving the field of nursing. Thank you, Alice, for always being there for our residents!
If you have a desire to improve the lives of others through meaningful work check out our open positions here.