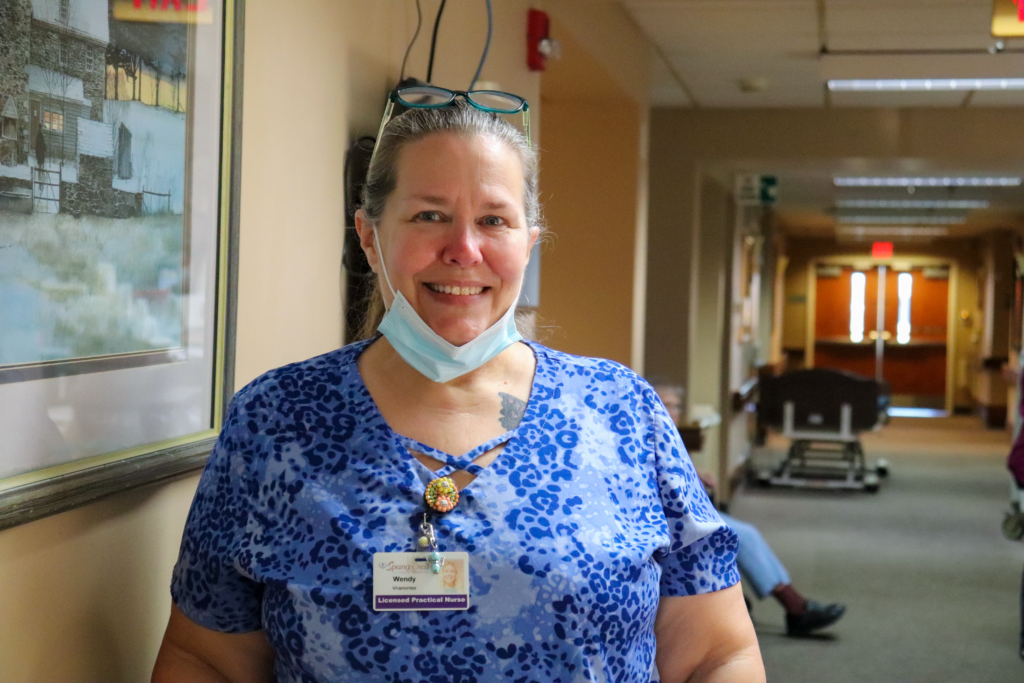 Wendy Viramontes learned the value of caregiving through her family. One of her aunts worked as a cardiac nurse, another as a registered nurse in a hospital, and her Sister-in-law works with special needs children. While she thought she would get into working with special needs children like her sister-in-law, she decided to pursue nursing. This decision led her to clinical practice at a local Veterans Affairs center where she developed an appreciation for working in a long-term care environment. Later, she would work in other rehabilitation facilities, as an agency nurse, and in other settings, gaining experience in each environment. Since then, Wendy has been a part of facilitating people's recoveries at Spang Crest—A Luthercare Community where she has served as a licensed practical nurse for a total of 5+ years.
Wendy's varied experience serves her well in her current role where she works to make our long-term care and rehab residents feel comfortable and supported. This can involve administering medication, keeping careful records, coordinating services or supplies with other departments and outside vendors, as well as supervising and assisting with care on her floor. The mix of services offered means that things can be busy at times, but Wendy enjoys the "busy-ness of the floor" and noted that collaboration makes everything easier. "As a team you work together to get through it, and we have a strong team" she said.
Past the necessary day-to-day tasks, Wendy most likes seeing residents improve over time. In a hospital setting, people are in and out quickly, but in long-term care you have time to develop personal relationships while people complete their therapy. Those connections can make a huge difference in the recovery process. "When residents do something above what they've been able to do you celebrate them and they enjoy that, the encouragement motivates them to keep going" Wendy said. In one instance she recalled a man who had come in on hospice and was in bed for days not eating. But one day, after time and support, she saw him walking up the hall for the first time with the therapy team. The man later made a full recovery and was able to return home.
In the future, Wendy plans to continue her work as a floor nurse. "It's where my heart is—it's where I want to be" she said. She is also interested in furthering her knowledge of wound care so she can better assist residents in the recovery process. "I like to see how the body can regrow, heal, and let people get back to their life" Wendy said.
Thank you, Wendy, for your ongoing efforts to help our residents live well! We're excited to see how your work continues to positively affect the lives of others.
If you're interested in giving the support our residents need like Wendy, check out the open listings in our careers tab.