You will be enriched in every way so that you can be generous on every occasion, and through us your generosity will result in thanksgiving to God. This service that you perform is not only supplying the needs of the Lord's people but is also overflowing in many expressions of thanks to God. 2 Corinthians 9:11-12
What a blessing it is to see God at work in and through the lives of God's people! Just 10 days prior to the writing of this article, I received word from the staff in our Luther Acres Healthcare Center that, within days, they would likely run out of isolation gowns worn by our dedicated team of heroes who care for our residents. I was asked if I know of any church groups that like to sew and might possibly be available to make some gowns for our use. I indicated that I would try my best to find out.
I sent out an email message to my colleagues in ministry asking the question, "Do any of you have volunteers who might know how to make isolation gowns?" I also downloaded and shared a free isolation gown pattern I found online. The following day I received an email from my newest friend in town, Amy Mozingo. She indicated that she had been sewing for most of her life and that she would be happy to help me out. She said, "But that pattern you sent is horrible! Bring me a gown, and I will come up with something that you can use." I took her a gown and within hours she called me to say that she had a sample for me to look at. I picked up the gown she had made and took it to the Healthcare Center where Lisa Keppley, Director of Nursing, tried it on and said, "This is perfect."
Amy then offered to cut out and assemble kits which included everything necessary to make an isolation gown. Those kits (160 of them) were then distributed to volunteers all over our region to be sewn together. As a result of the hard work and dedication of some two dozen volunteers, Luthercare has 160 new, washable and reusable isolation gowns to be used by our wonderful care teams at Luther Acres in Lititz and St. John's Herr Estate in Columbia! How special is that?!?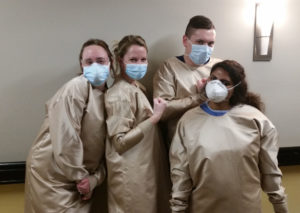 As I reflect on what God has accomplished in such a short amount of time, I echo St. Paul's words to the church in Corinth where he says that their generosity will result in thanksgiving to God! Because of the hard work and talents of this wonderful team of sewing angels we will be able to keep our staff safe as they do the important work they do. The impact of this generosity and work will be seen and felt for years to come as our staff proudly wear their new golden hero capes! What has been done here, as St. Paul says, is "not only supplying the needs of the Lord's people but is also overflowing in many expressions of thanks to God."
Thanks be to God, indeed!
Rev. Glenn A. Beard, Jr., MDiv, BCC
Director of Church Relations & Pastoral Care, Luthercare