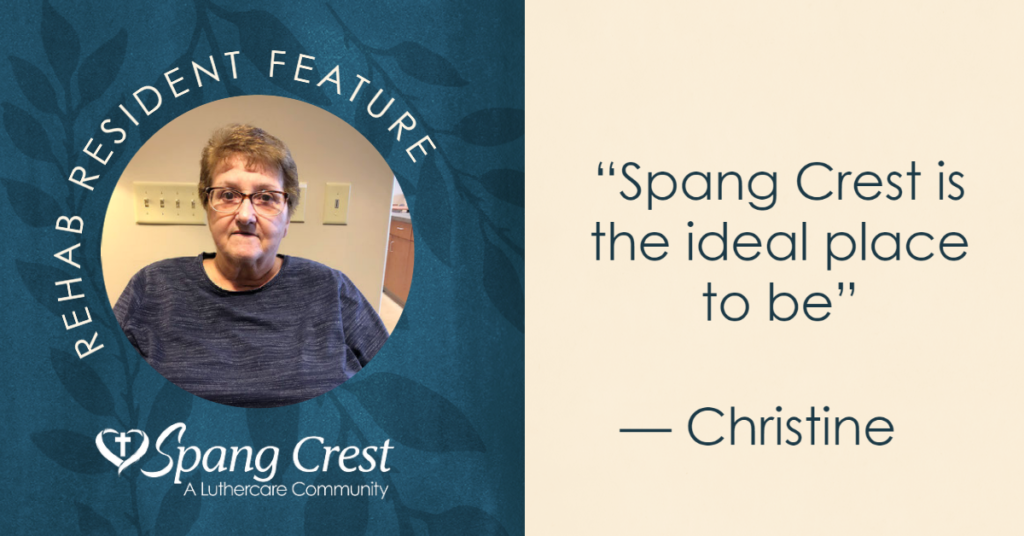 After 101 days away from home following a bout of COVID-19, Christine returned to her home in the community with her husband. Participation in physical and occupational therapy services during her 18 day stay at Spang Crest enabled her to complete a transfer with supervision, walk 22 feet with a rolling walker, propel a manual wheelchair for unlimited distances, and complete basic activities of daily living with minimal assistance and without the use of supplemental oxygen. The following is how she got to that point.
Christine's world drastically changed in December 2021 when she tested positive for COVID-19. After arriving at WellSpan Good Samaritan Hospital in Lebanon at the beginning of January 2022 due to shortness of breath and wheezing, she was admitted to the hospital with respiratory failure and COVID pneumonia and was subsequently placed on high-flow oxygen. Her hospital stay was severely complicated as she required intubation, a tracheostomy, and PEG tube placement. In February, she transitioned to a long-term care acute facility for further medical management and to initiate therapy services. While at that facility, her tracheostomy was removed, but she continued to require supplemental oxygen. In March, she was able to transition to an inpatient rehabilitation facility where she participated in therapy services for roughly two weeks, but due to her ongoing need for therapy services, Christine transferred to Spang Crest, our Luthercare community in Lebanon.
On March 28, Christine began her rehabilitation services with physical and occupational therapy services provided by HealthPro/Heritage at Spang Crest. Her therapy team developed a personalized treatment plan focused on improving her strength, balance, endurance, safety, and independence with basic daily tasks.
Initially, Christine was unable to complete a sit-to-stand transition without assistance from two staff members, and she required the use of a transfer board to safely transition between surfaces. Her physical therapy sessions focused on improving her activity tolerance and lower extremity strength in order to complete functional mobility and transfers while weaning her off supplemental oxygen.
Occupational therapy sessions focused on her ability to complete activities of daily living, including bathing, dressing, and toileting while implementing energy conservation techniques. Additionally, treatment sessions addressed her ability to manually propel a wheelchair and to recommend appropriate medical equipment for a safe discharge.
After months of hard work and recovery, Christine was grateful to her therapy team at Spang Crest for enabling her to succeed and successfully transition back to her home. "Spang Crest is the ideal place to be," she said.
To learn more about rehabilitative services we offer at Spang Crest, visit our Rehab-to-Home page.