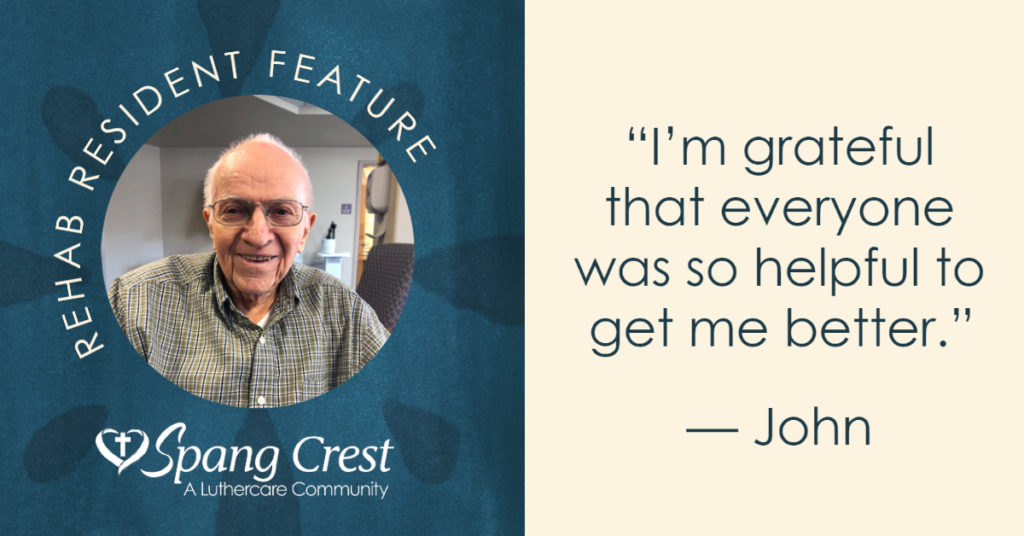 At Spang Crest, we celebrate our rehabilitation patients' successes, and we'd like to share John's story of getting stronger and being able to return home with his wife.
Earlier this year, John was admitted to WellSpan Good Samaritan Hospital in Lebanon after a visit to his primary care doctor with worsening shortness of breath. He underwent a chest x-ray that showed pulmonary edema, bilateral pulmonary effusions, and pneumonia, which necessitated the use of supplemental oxygen. His hospital stay was complicated by chronic heart failure with intermittent atrial fibrillation requiring the placement of a permanent dual-chamber pacemaker.
After being treated medically, John was discharged on March 8, 2022, to Spang Crest, a Luthercare community in Lebanon, where he began skilled rehabilitation services with physical therapy and occupational therapy. His therapy team, provided by HealthPRO Heritage, developed a personalized treatment plan that focused on increasing his safety and independence with functional mobility and activities of daily living.
John's physical therapy sessions focused on exercises to increase his endurance, balance, and muscle strength with the use of a walker, while attempting to wean him off supplemental oxygen. He was able to progress from requiring assistance to transfer and walk with the use of a walker to being independent with a single point cane without the use of oxygen.
Occupational therapy sessions addressed compensatory techniques and strategies to complete his activities of daily living, including bathing, dressing, and toileting following the placement of his pacemaker. John progressed through his occupational therapy treatments and was able to complete all activities of daily living with independence while maintaining his new sternal precautions.
John was able to return to his home in the community with his wife after 20 days at Spang Crest. He is looking forward to returning to quiet days of watching basketball and completing word search puzzles. "I'm grateful that everyone was so helpful to get me better," he says.
John, we wish you well on your return home!
To learn more about rehabilitative services we offer at Spang Crest, visit our Rehab-to-Home page.