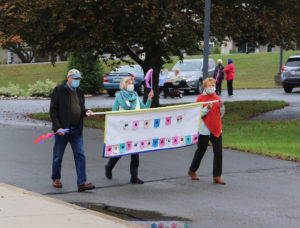 Family members, residents and team members planned a very special surprise to recognize St. John's Herr Estate resident Gladys Trefny as she turned 104 on Monday. They organized a socially-distanced parade, complete with festive banners and signs, balloons and streamers, and a visit from a Columbia Borough Fire Department fire truck.
Gladys, or "Biz" as she is known by many, was able to sit outdoors and wave to well-wishers as they passed by, and she thanked them for honoring her. "I've waited a long time to get here," she said. "But I'm here! It doesn't feel any different, except for the party, and I'm happy about that!"
St. John's Herr Estate Executive Director Anita Martin said, "During these unusual times, we wanted to find a way to recognize Gladys as she reached this milestone birthday, and our team and residents were so excited to put together this celebration for her."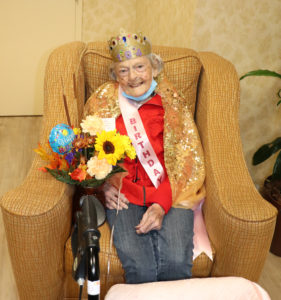 Gladys was born in 1916 in Athens, N.Y., along the Hudson River. She was the daughter of Frank & Myrtle Glace and was one of four children. In 1939, her family moved to Queens, N.Y. Her father's career in construction led him to work on the New York World's Fair. After graduating high school she attended Pace University in New York City. Gladys married John Trefny in 1940, and together they raised two children, Scott and Suzanne. They were married for 74 years!
Gladys, John and their two children eventually moved to Hatboro, PA.  John worked in sales, and Gladys enjoyed being a stay-at-home mother. Later in life, Gladys and John spent some time living in Fairfield, Conn., as well as Farmington Hills, near Detroit, Mich. In 1978, Gladys and her husband moved to Lititz, PA.  The couple lived in Lititz until John's passing in 2016. Shortly after, Gladys moved to St. John's Herr Estate, in Columbia, where she currently resides.
Throughout her life, Gladys has enjoyed being a Girl Scout leader and volunteering at church. For many years, she was a Sunday school teacher at St. Paul's Lutheran Church in Lititz. She has a passion for reading books and continues to read daily. She also enjoys painting and playing games.
She says she doesn't think about the fact that she's turning 104, and she's happy to have made a lot of good friends at St. John's Herr Estate. Her advice is to keep smiling and be happy!
Happy 104th birthday, Gladys!
About Luthercare: 
Founded in 1949, Luthercare, a social ministry organization affiliated with the Lower Susquehanna Synod of the Evangelical Lutheran Church in America and a member of Lutheran Services in America, is a leading provider of independent, personal care and skilled care residences in Lancaster and Lebanon counties. Luthercare operates Luther Acres, a Continuing Care Retirement Community in Lititz, Pa.; Spang Crest, a rehabilitation center, skilled nursing and memory support personal care community in Lebanon, Pa.; and St. John's Herr Estate, an independent living and personal care community in Columbia, Pa. Additionally, Luthercare operates PA Keystone Stars-accredited child care and early learning centers in Marietta, Reamstown and Annville. Luthercare, a pioneer in Child Care Programs, also offers a Mentoring Program, which aids home-based child care providers in Lebanon and Lancaster counties.