Zoraima Ruth started at Spang Crest as a Resident Care Aide in 2012 before leaving, pursuing more education, and rejoining our team in 2017 as a Certified Nursing Assistant (CNA) where she remains. In her current role, Zoraima takes care of residents' day-to-day needs, such as bathing and grooming, and monitoring their health and well-being.
Like many nurses and CNAs, Zoraima was drawn into the healthcare field by compassion, as evidenced by the care she provides. Kim Diaz, Director of Nursing at Spang Crest, recalled how Zoraima helped a primarily Spanish speaking resident with dementia feel welcomed, thanks to her own ability to speak Spanish. "It was so heartwarming to see," Kim said.
While she has worked in home care for many years, Zoraima noted that the work/life balance at Spang Crest was "perfect," especially after the birth of her son. "Plenty of times I've thought of working closer to home or changing my career, but being here is home. We get treated with such kindness, care, and compassion especially through the hard times … this is where I want to be and continue to do the work that I'm doing," Zoraima said.
Thank you, Zoraima, for the difference you make in the lives of our residents!
To learn more about available CNA positions or other career opportunities at Luthercare, visit https://www.luthercare.org/careers/.
About Luthercare: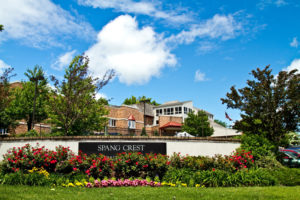 Founded in 1949, Luthercare, a social ministry organization affiliated with the Lower Susquehanna Synod of the Evangelical Lutheran Church in America and a member of Lutheran Services in America, is a leading provider of independent, personal care and skilled care residences in Lancaster and Lebanon counties. Luthercare operates Luther Acres, a Continuing Care Retirement Community in Lititz, Pa.; Spang Crest, a rehabilitation center, skilled nursing and memory support personal care community in Lebanon, Pa.; and St. John's Herr Estate, an independent living and personal care community in Columbia, Pa. Additionally, Luthercare operates PA Keystone Stars-accredited child care and early learning centers in Marietta, Reamstown and Annville. Luthercare, a pioneer in Child Care Programs, also offers a Mentoring Program, which aids home-based child care providers in Lebanon and Lancaster counties.