Ruth Petery has always been in the medical field, but beginning her career as a nurse in long-term care has been the most rewarding and, at times, the most challenging job she's held. After graduating from nursing school in 2014, Ruth started at Spang Crest as a casual (as-needed) team member, then settled into a part-time position, and later moved to a full-time role working with residents experiencing memory loss. As a new nurse, not only was she grateful for the work, but she was thankful for her supportive team members for helping her along the way. The team's collaboration and friendly attitude continues to this day. "If there is something you don't understand, someone will take the time to help you," Ruth says.
As a Licensed Practical Nurse, Ruth is responsible for administering medication and treatments, assessing overall health, and overseeing Certified Nursing Assistants to ensure that the highest standard of care is being provided to our residents. The challenges of the past year brought an intensity to her day-to-day duties to ensure the emotional and spiritual well-being of residents.
The pandemic has been very tough on team members and especially residents, but everyone did the best they could with the situation, Ruth says. "Senior living communities were hit hard by the COVID-19 pandemic. I was and still am very proud how it was handled by our facility. It was taken very serious immediately. The residents' health and well-being were and still are top priority," Ruth says.
The connections she's made at Spang Crest – interacting with residents, hearing their life stories, and seeing their photos – is a highlight of the job for Ruth. To her, the residents and her co-workers are like a second family. As an example of her dedication to the residents, Spang Crest Executive Director Daniel Deitzel shares that Ruth was caring for a resident who talked to her about how much he loved Rice Krispies Treats. So she went home, made a batch, and brought them in for him! She also volunteered to be scheduled to work in the community's COVID-19 unit during the pandemic, he notes.
Thank you, Ruth, for the impact you are making at Spang Crest!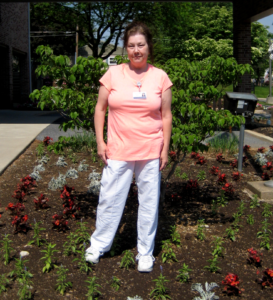 To learn more about LPN positions at Spang Crest or other career opportunities at Luthercare, visit https://www.luthercare.org/careers/.