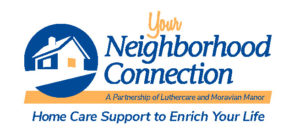 Each day, some 10,000 seniors turn 65 in the United States, and the majority of those seniors are hoping to age in their own home. Your Neighborhood Connection, the in-home care agency jointly owned and operated by Luthercare and Moravian Manor, continues to grow as it meets the needs of these individuals.
Your Neighborhood Connection (YNC) started receiving clients in March of 2016 and has been helping clients and family members over the past three-plus years. In the beginning, YNC employed 15 caregivers along with two office team members. We now have more than 47 caregivers in addition to four office staff members ready to serve. We have successfully completed 42,000 hours of service, which is equivalent to 16,210 client visits.
We certainly are delivering on our mission statement: "When home is where you want to be, Your Neighborhood Connection provides reliable, personalized in-home care solutions that promote wellness and freedom of choice." Currently, 53 percent of our clients are served on campus in residential areas, with the other 47 percent of clients served in the surrounding Lancaster County area.
With this growing trend of more and more clients choosing to receive services in their home, Your Neighborhood Connection continues to seek qualified caregivers and team members to best serve those in need. YNC is also committed to connecting and working alongside community-based companies, ranging from home health agencies, adult day service centers, hospice and other long-term care centers.
Continuously growing our connections and education opportunities, YNC collaborated with a few of our community-based friends to present a fall program. This year's topic was "Navigating the Aging Process." We explored various service opportunities for those residing in their own home, and the program was presented in the local community and on the senior living campuses we serve.
Leanne Kiralfy
Executive Director – Your Neighborhood Connection