COVID-19 Pandemic Video –
The Effect of the Pandemic on Luther Acres Campus, Residents & Staff
As we moved forward in our journey through the pandemic, we felt it was important to share what we faced during the outbreak at Luther Acres Healthcare Center, the impact it has had, and where we go from here.
This is video dedicated to our Luthercare residents who went above and beyond in supporting our team members during the pandemic, and to the residents who have passed during this time. And, to our frontline team, our healthcare heroes who have selflessly served our residents during the coronavirus pandemic.
Watch now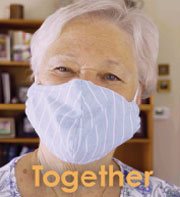 News
Rehab Resident Feature: John
At Spang Crest, we celebrate our rehabilitation patients' successes, and we'd like to share John's story of getting stronger and being able to return home with his wife. Earlier this year, John was admitted to WellSpan Good Samaritan Hospital in Lebanon after a visit to his primary care doctor with worsening shortness of breath.... Click to read the full story
Team Member Spotlight: Bambi Treier
After graduating high school in 2005, Bambi Treier started working with Luthercare for Kids — Reamstown in a float position – adapting to different classrooms and age groups as needed. In the 17 years that followed, Bambi has worked in the young infant room, as a group supervisor, as a co-teacher with center director Lee... Click to read the full story
---
Service of Remembrance Video
2021 Service of Remembrance video created by our Pastoral Care team.
---
Several times a year, Luthercare circulates its corporate newsletter, Experiences, which provides readers with a glimpse of the most important happenings at Luthercare, our senior living campuses and our child care centers.
In addition, Experiences also features any important upcoming events or news at Luthercare. Click below to read or download some of our most recent newsletters!
Philanthropy Newsletters & Updates