COVID-19 Pandemic Video –
The Effect of the Pandemic on Luther Acres Campus, Residents & Staff
As we moved forward in our journey through the pandemic, we felt it was important to share what we faced during the outbreak at Luther Acres Healthcare Center, the impact it has had, and where we go from here.
This is video dedicated to our Luthercare residents who went above and beyond in supporting our team members during the pandemic, and to the residents who have passed during this time. And, to our frontline team, our healthcare heroes who have selflessly served our residents during the coronavirus pandemic.
Watch now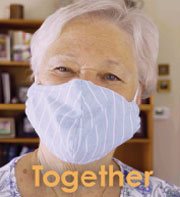 News
Team Member Spotlight: Karen Fisher
Karen Fisher joined the Luther Acres team in 2005 as a housekeeper. In her current role, Karen is responsible for ensuring that resident rooms, bathrooms, hallways, and all other common areas are clean and presentable for everyone. While these things are all done campus-wide, Karen mostly works in Agape Way, the memory care unit at... Click to read the full story
Luthercare Updates Team Member Vaccination Policy
Please read the following message from Luthercare President & CEO Carl R. McAloose: Luthercare has continued to carefully watch the surge in COVID-19 infections in recent weeks, both nationally and now in our area of service. The emergence of the highly contagious Delta variant has led to a rapid acceleration of community transmission in the... Click to read the full story
Team Member Spotlight: Janet Farnish
Janet Farnish was retired but looking for a part-time job. She had previous experience working as a switchboard operator and receptionist, so when a part-time receptionist position opened up at St. John's Herr Estate in 2013, she joined the team! As a receptionist, Janet is often the first point of contact for visitors, team members,... Click to read the full story
---
Service of Remembrance Video
Our Service of Remembrance video created by our Pastoral Care team.
---
Several times a year, Luthercare circulates its corporate newsletter, Experiences, which provides readers with a glimpse of the most important happenings at Luthercare, our senior living campuses and our child care centers.
In addition, Experiences also features any important upcoming events or news at Luthercare. Click below to read or download some of our most recent newsletters!
Philanthropy Newsletters & Updates