COVID-19 Pandemic Video –
The Effect of the Pandemic on Luther Acres Campus, Residents & Staff
As we moved forward in our journey through the pandemic, we felt it was important to share what we faced during the outbreak at Luther Acres Healthcare Center, the impact it has had, and where we go from here.
This is video dedicated to our Luthercare residents who went above and beyond in supporting our team members during the pandemic, and to the residents who have passed during this time. And, to our frontline team, our healthcare heroes who have selflessly served our residents during the coronavirus pandemic.
Watch now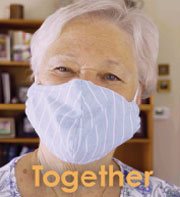 News
Luthercare and Diakon announce Lutheran Disaster Response partnership
Today, Luthercare (Lititz, PA) and Diakon (Topton, PA) announced a partnership to continue their work in Lutheran Disaster Response (LDR).  As Lutheran social ministry organizations, both organizations have participated individually in the LDR network for many years.  This partnership allows the two organizations to utilize their resources in a more efficient manner while also collaborating... Click to read the full story
Team Member Spotlight: Barb Berrier
Barb Berrier has spent 42 years working in the senior living industry. Starting at age 15, Barb worked as a dishwasher in another local retirement community before becoming a Certified Nursing Assistant, then a Licensed Practical Nurse, and eventually an LPN Supervisor, the role she currently holds in the close-knit Personal Care community at St.... Click to read the full story
SAIL Collaborative Meets the Needs of Children in our Community
Luthercare for Kids and its collaborative program, Systems Aligned in Learning (SAIL), recently launched a mobile food distribution program to bring free, healthy produce and non-perishable foods to low-income families attending home-based childcare programs. SAIL regularly provides free resources and support to 39 local in-home childcare providers. Many of the children who attend the home-based... Click to read the full story
Team Member Spotlight: Abigail Mohl
Being a part of so many milestones for young learners is a point of pride for Abigail Mohl. Since starting in May of 2015, she has played an integral part in seeing that every child at the center is prepared with a solid foundation of knowledge. This includes necessary skills like literacy, language, communication, emotional... Click to read the full story
---
Service of Remembrance Video
2021 Service of Remembrance video created by our Pastoral Care team.
---
Several times a year, Luthercare circulates its corporate newsletter, Experiences, which provides readers with a glimpse of the most important happenings at Luthercare, our senior living campuses and our child care centers.
In addition, Experiences also features any important upcoming events or news at Luthercare. Click below to read or download some of our most recent newsletters!
Philanthropy Newsletters & Updates