COVID-19 Pandemic Video –
The Effect of the Pandemic on Luther Acres Campus, Residents & Staff
As we moved forward in our journey through the pandemic, we felt it was important to share what we faced during the outbreak at Luther Acres Healthcare Center, the impact it has had, and where we go from here.
This is video dedicated to our Luthercare residents who went above and beyond in supporting our team members during the pandemic, and to the residents who have passed during this time. And, to our frontline team, our healthcare heroes who have selflessly served our residents during the coronavirus pandemic.
Watch now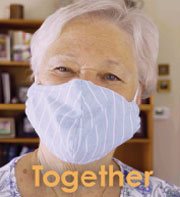 News
Luther Acres Offers Spring Courses
Luther Acres, a Luthercare community, 600 E. Main St., Lititz, is offering a variety of courses for its Spring 2019 "reDiscover A World of Possibilities" program. The courses are one day a week, and some cover a four-week period. All are open to the greater community. Most courses are held on the Luther Acres campus... Click to read the full story
Luther Acres to Host Wellness Fair and Open House
Luther Acres, the Luthercare senior living community in Lititz, will host its 8th annual Wellness Fair and Open House on Thursday, April 25. The day features educational seminars from 8:30 a.m. until 2:15 p.m.; an Open House from 11:30 a.m. to 3:00 p.m.; and a health fair from 11:30 a.m. until 3:00 p.m. The health fair,... Click to read the full story
The Health and Wellness Experience at Luthercare
No matter your age, experts agree it's important and essential to stay physically active. But physical activity isn't the only key to good health and well-being. A comprehensive approach to wellness involving several other factors adds up to a full and satisfying life. Luthercare was intentional and purposeful in creating a well-rounded health and wellness... Click to read the full story
---
Service of Remembrance Video
Our Service of Remembrance video created by our Pastoral Care team.
---
Several times a year, Luthercare circulates its corporate newsletter, Experiences, which provides readers with a glimpse of the most important happenings at Luthercare, our senior living campuses and our child care centers.
In addition, Experiences also features any important upcoming events or news at Luthercare. Click below to read or download some of our most recent newsletters!
Philanthropy Newsletters & Updates